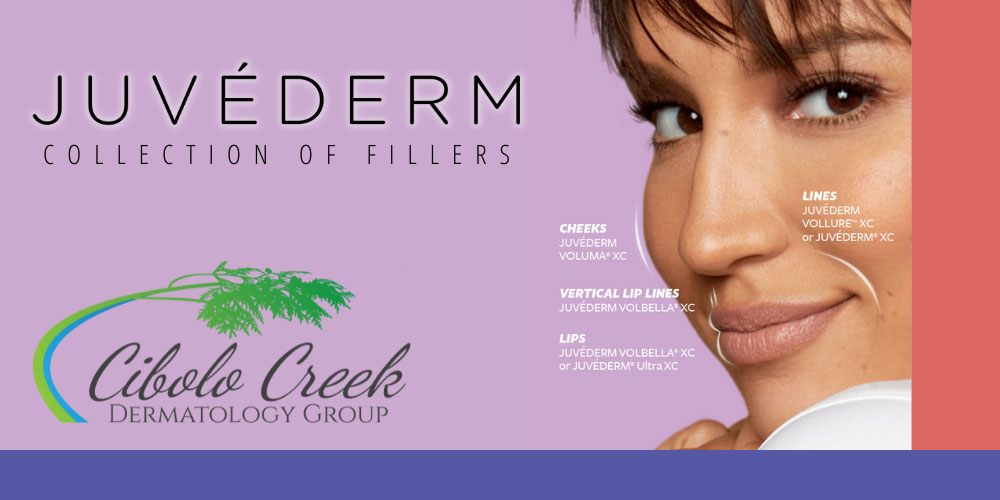 To put your best face forward and maintain that youthful appearance, Cibolo Creek Dermatology Group of Boerne offers JUVÉDERM® fillers, which are uniquely designed to give you volume where you need it.
Smooth, clear gels injected beneath the skin
Made from a modified form of hyaluronic acid (HA), a naturally-occurring sugar found in your body
Hyaluronic acid, or HA, is a natural substance in the body that delivers volume to the skin. Modified HA is the main ingredient behind JUVÉDERM®. Getting treated with JUVÉDERM® helps add volume to different areas of the face without surgery while also temporarily restoring the volume loss beneath the surface.
What are the benefits of JUVÉDERM® hyaluronic acid fillers?
Nonsurgical treatments
Instant results
Natural look
Long-lasting difference
JUVÉDERM® Fillers for Cheeks
Discover A More Youthful Appearance
When you're young, cheeks are full and round. As you age:
Your cheek area loses its youthful shape
Your cheeks flatten
Your skin may begin to sag
At Cibolo Creek Dermatology Group in Boerne, we can lift the cheek area with JUVÉDERM VOLUMA® XC, which is designed to add volume to your cheeks, giving you a smoother, natural-looking contour and a more youthful look.
JUVÉDERM® Fillers for Facial Lines
Soften Deepening Lines
Over time, your skin loses elasticity. This natural process, plus genetics and environmental factors like sun exposure, can cause wrinkles and lines.
Cibolo Creek Dermatology Group carries the different fillers -- JUVÉDERM VOLLURE™ XC and JUVÉDERM® XC -- that are designed to give you a smoother appearance, whether you want subtle volume or a little extra volume.
JUVÉDERM® Fillers for Lips
Get Plump, Natural-Looking Lips
Lip fullness varies from person to person. Some people were born with thinner lips; others have seen their lips get thinner over time.
JUVÉDERM® has two unique hyaluronic acid-based fillers for the lips -- JUVÉDERM® ULTRA XC and JUVÉDERM VOLBELLA® XC. Whether you want a plumper appearance or subtle volume, our team at Cibolo Creek Dermatology Group can help you determine the best treatment plan towards a more youthful you!