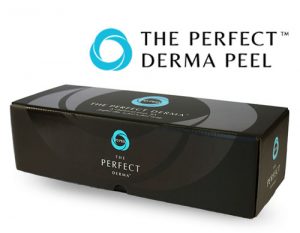 Ranked as one of the Top 3 New Anti-Aging Products by ABC News, The Perfect Derma™ Peel delivers on that promise. The Perfect Derma™ Peel provides healthy, ageless skin for all skin types and ethnicities.
Dr. Monica McCrary and her team at Cibolo Creek Dermatology Group is the only physician provider in the Boerne area of The Perfect Derma™ Peel chemical peel treatment.
Best Chemical Peel for Acne Scars, Wrinkles, Hyperpigmentation, and more!
The Perfect Derma™ Peel is safe, effective medium depth peel for All Skin Types & Ethnicities.  This product is virtually painless, with no pre-peel skin preparation and little downtime.
The Perfect Derma™ Peel is the only medical grade chemical peel that includes the powerful anti-oxidant Glutathione, which lightens and brightens the skin, slows down the aging process and helps prevent wrinkles.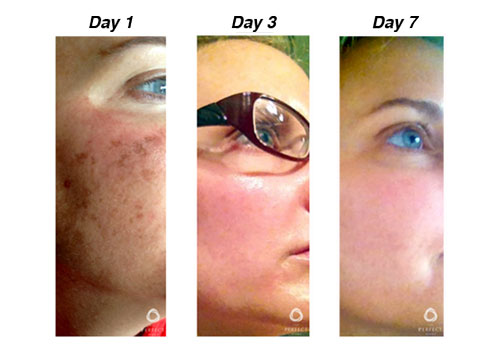 Benefits:
Improve the overall clarity, tone and texture of the skin
Soften fine lines and wrinkles
Stimulate the production of collagen and elastin, resulting in firmer, more youthful skin
Reduce or eliminate hyperpigmentation, sun damage and Melasma
Control acne and improve the appearance of acne scars
Reduce the appearance of pore size
One Perfect Derma™ Peel Treatment
Before and after close up of results after one treatment of The Perfect Derma™ Peel to lighten freckles, a form of hyperpigmentation.
One Perfect Derma™ Peel Treatment
Plus home use of the Perfect C, skin-brightening lotion to improve the look of hyperpigmentation acne scars.
One Perfect Derma™ Peel Treatment
Plus home use of The Perfect Bleaching Cream to diminish the appearance of all forms of hyperpigmentation, brighten skin, and even skin tone
One Perfect Derma™ Peel Treatment
People with darker skin tones are more at risk of developing hyperpigmentation scars from acne.
Two Perfect Derma™ Peel Treatments
The second with The Perfect Derma™ Plus Booster, spaced 6 months apart. This booster is an excellent addition for treating stubborn Hyperpigmentation including melasma, thick, oily or resilient skin, Actinic Keratosis, and age spots on hands, arms and chest.
One Perfect Derma™ Peel Treatment
Chemical peels improve the appearance of wrinkled skin by using a chemical solution to remove the outer layer of old skin. The new skin that replaces it is usually smoother and less wrinkled in appearance.
Cibolo Creek Dermatology specializes in delivering the ultimate patient experience by providing exceptional dermatology skin solutions and treatments that you can rely on. We are trusted to be completely transparent with our patients and offer the beautiful, radiant and healthy skin they deserve.
Call us today at (830) 971-5256 for more information about pricing or request an appointment online.